Dear Users,
BuyUcoin brings a Holi offer for all its members, share your referral link this Holi and gift your friends up to ₹100 worth of free crypto and get ₹20/Mobile Verified & ₹50/KYC verified account and up to 30% commission lifetime on their trading in the classic market.
Also, the top two referrers will get a BuyUoin hamper worth 10,000.
The amount will be credited to users' BuyUcoin wallet at the end of the campaign i.e. 21st March 2022
Share & Earn Rules | Holi Offer 2022
Minimum Payout at ₹1000 for KYC Verified
Minmum Payout at ₹500 for Mobile Verified
₹20 is included in the KYC Verified account Cost i.e. ₹20 + ₹30 = ₹50 for KYC
Non-KYC Verified will still get 30% commission on classic trade for lifetime.
Users can also apply for MLM Based Campaign for ₹50/KYC at marketing@buyucoin.com
No-Maximum Bandwidth on PayOut
Non-KYC Verified Registration will not be included in the PayOut
Payouts will be updated on daily basis at 08:00 PM IST
Check the payout sheet here, you can check sample signups for 14th March 2022 02:00 PM IST, Offer will be live after that
PayOut Proof
How To Participate in Share & Earn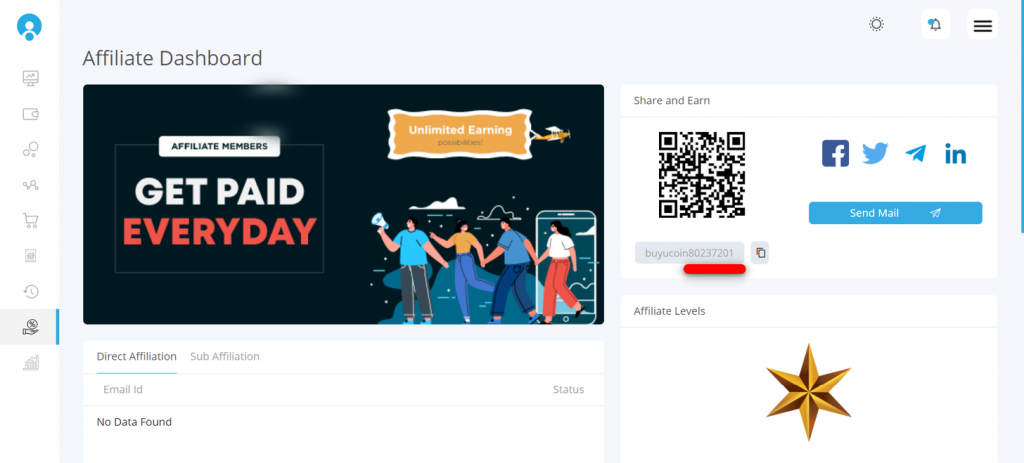 Login/Signup at https://trade.buyucoin.com
Visit Referral or Affliate Section on Web & Account Section on App
Copy your referral code which is like BUYUCOINXXXXXXXX
Use this link and add your code in front of it

https://trade.buyucoin.com/signup?referral=BUYUCOINXXXXXXX
Share this link with your friends and family
You can also, click on sharing icons available for direct link sharing in the profile section
How To Complete KYC on BuyUcoin
Signup using referral ID Provided by BuyUcoin User
Visit Account Section
Verify Email with OTP
Verify Mobile with OTP
Start KYC Verification Process

Upload AADHAR Card
Upload PAN Card
Upload Selfie
Wait for KYC Confirmation

Visit Reward Section and use BUYUCOINFREEBTC Code and Get Cryptocurrencies worth ₹100
Subscribe to BuyUcoin Blog by Enabling Push Notification or Email Subscription To Get Latest News & Updates about Cryptocurrency, Price Prediction, Latest Videos, and more.