Bitcoin drops to a 12-month low as other coins also fell due to rising inflation, declining tech stocks, and a risk-off climate.
Over the last month, stock and cryptocurrency investors have made it quite plain that we are in a risk-off environment.
Apart from the Bitcoin Drops…
Over the weekend, Bitcoin, Ethereum, and the other major cryptocurrencies all fell further, erasing some of the week's gains. According to CoinMarketCap, the worldwide crypto market cap has dropped to $1.03 trillion, a 7.5 percent loss in just 24 hours.
Bitcoin drops18 percent in the last seven days, dropping below $26,000 to $25,513, its lowest level since 2022 and a 12-month low. Even after a relatively successful merge test drive on the Ropsten testnet on Wednesday, Ethereum has performed even worse, falling by 28 percent in the last week. (On Friday, Ethereum core developers announced their decision to postpone the "difficulty bomb," a critical step in The Merge, for another two months, which may have harmed ETH's image.)
It wasn't just BTC and ETH that were involved. In the last seven days, every single one of the top 20 coins by market cap has lost double digit percentages.
BNB is down 22% this week, Cardano (ADA) is down 24%, XRP is down 18%, Solana (SOL) is down 31%, Dogecoin (DOGE) is down 28%, Polkadot (DOT) is down 28%, Avalanche (AVAX) is up 35%, and Polygon (MATIC) is down 25%.
After a massive bull run in 2020 and 2021, the crypto market has been volatile all year, but the current Crypto Winter began in earnest in the first week of May, when major currencies plummeted alongside the stock market. The Terra ecosystem (UST and LUNA) then imploded (albeit a Chainalysis research released this week connected Bitcoin's loss to the broader tech stock selloff, not Terra). Since then, tech stocks have continued to plummet, and cryptocurrency has plummeted even worse. The downward trend has accelerated this week, as evidenced by the CPI measurement for May, which showed consumer goods prices climbing 8.6% from May 2021, the highest year-over-year inflation rate since 1981.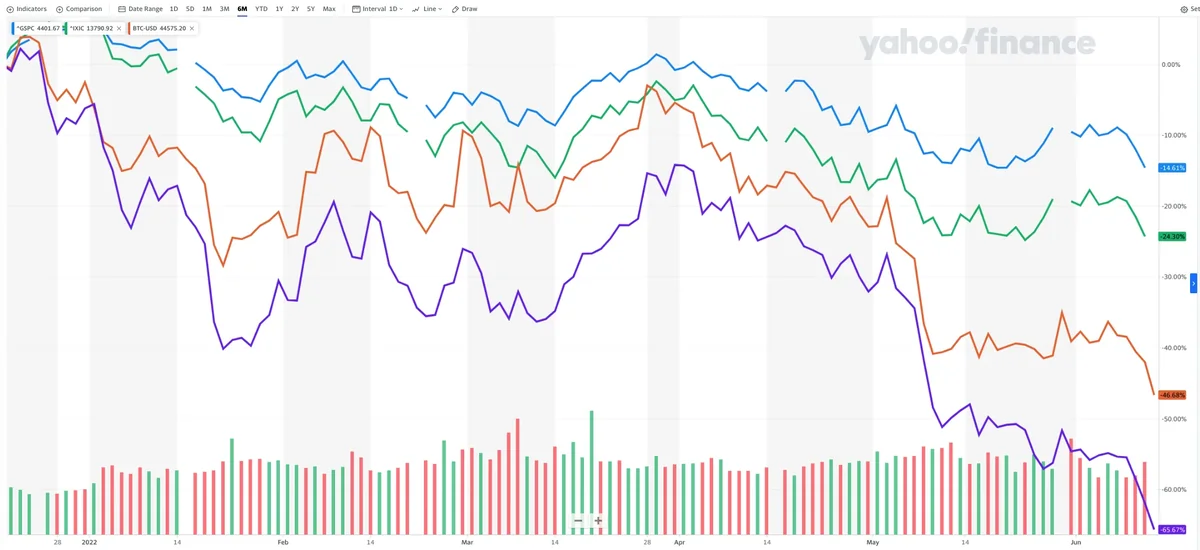 S&P 500 (blue), Nasdaq (green), Bitcoin (orange), and Ethereum (purple) over the past 6 months. (Yahoo Finance)
For years, Bitcoin was marketed as an inflation hedge, but it has not performed as expected in 2022, reaching its greatest level of correlation with the S&P 500 and Nasdaq since 2020 in January.
For the time being, bitcoin and tech stocks are both on the decline.
When you add in the COVID-19 hangover, geopolitical instability, and persistent anti-crypto sentiment from prominent lawmakers, you have the makings of a long-term bear market—for both crypto and equities.
Source: Decrypto