Some investors perceive this point in the cryptocurrency timeline as a great time to invest in cryptocurrencies. Elon Musk is taking advantage of the price drop to purchase Dogecoin (DOGE) at a discount.
Elon Musk, CEO of Tesla and SpaceX and co-founder of The Boring Company and Neuralink, admitted to buying Dogecoin on Twitter on June 19. This comes after he stated unequivocally that he will continue to support the bitcoin craze: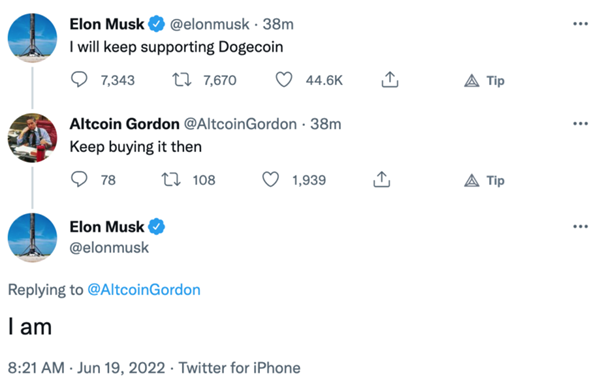 The market's freefall was sparked by rumours that the crypto industry's health was in jeopardy. The implosion of TerraUSD (UST), Luna, and the Terra environment started it all. Then, due to a financial issue, the unilateral freezing of Celsius money began. There was the possibility that the Three Arrow Capital fund would go bankrupt, and certain protocols, such as Babel Finance, began to halt asset withdrawals. To prepare for a future crypto winter, several crypto companies are laying off large numbers of employees.
Elon Musk back DOGE like a lone wolf who swims against the current.
Even in the midst of such a dire situation, the tech mogul continues to back the meme cryptocurrency. Musk stated that he purchased dogecoin in anticipation of the price rising in the future.
Dogecoin's price goes up as a reaction to Elon Musk's comment
DOGE is now trading at a low price. The meme coin has been steadily declining over the previous year, returning to pre-hype levels.
DOGECOIN's highest historical price was 0.68 dollars; presently, following a precipitous drop, it is trading in the 0.05 dollar level.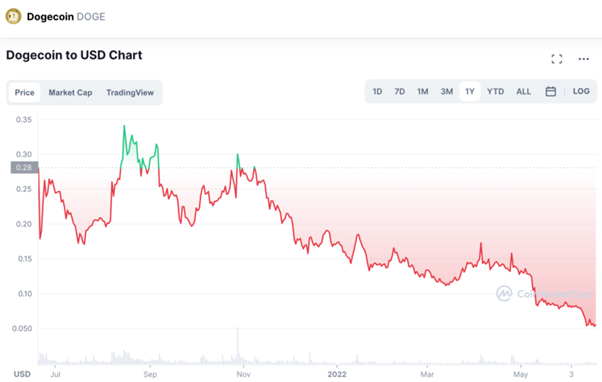 Because Musk's dogecoin's purchase was made so recently, we'll have to wait and watch if the market reacts by halting the memecoin's decline.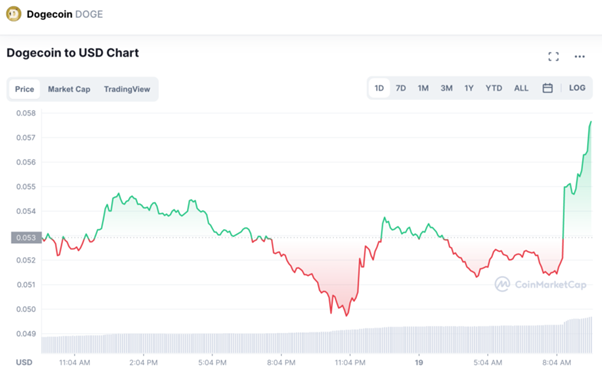 For the time being, you can observe how the price of DOGE has soared vertically from the almost precise moment that the world's richest man wrote his pro-Dogecoin tweet. Only time will tell if Elon Musk has managed to save the memecoin from the crypto graveyard.
Source: Beincrypto